What's New at Harford Christian School 2022/23?
Fort McHenry Field Trip
The combined 2nd grade classes had a wonderful day visiting Fort McHenry and learning about the Star-Spangled Banner. The students enjoyed raising the flag with a park ranger, touring the fort with Mr. Peters, and taking a scavenger hunt of the area.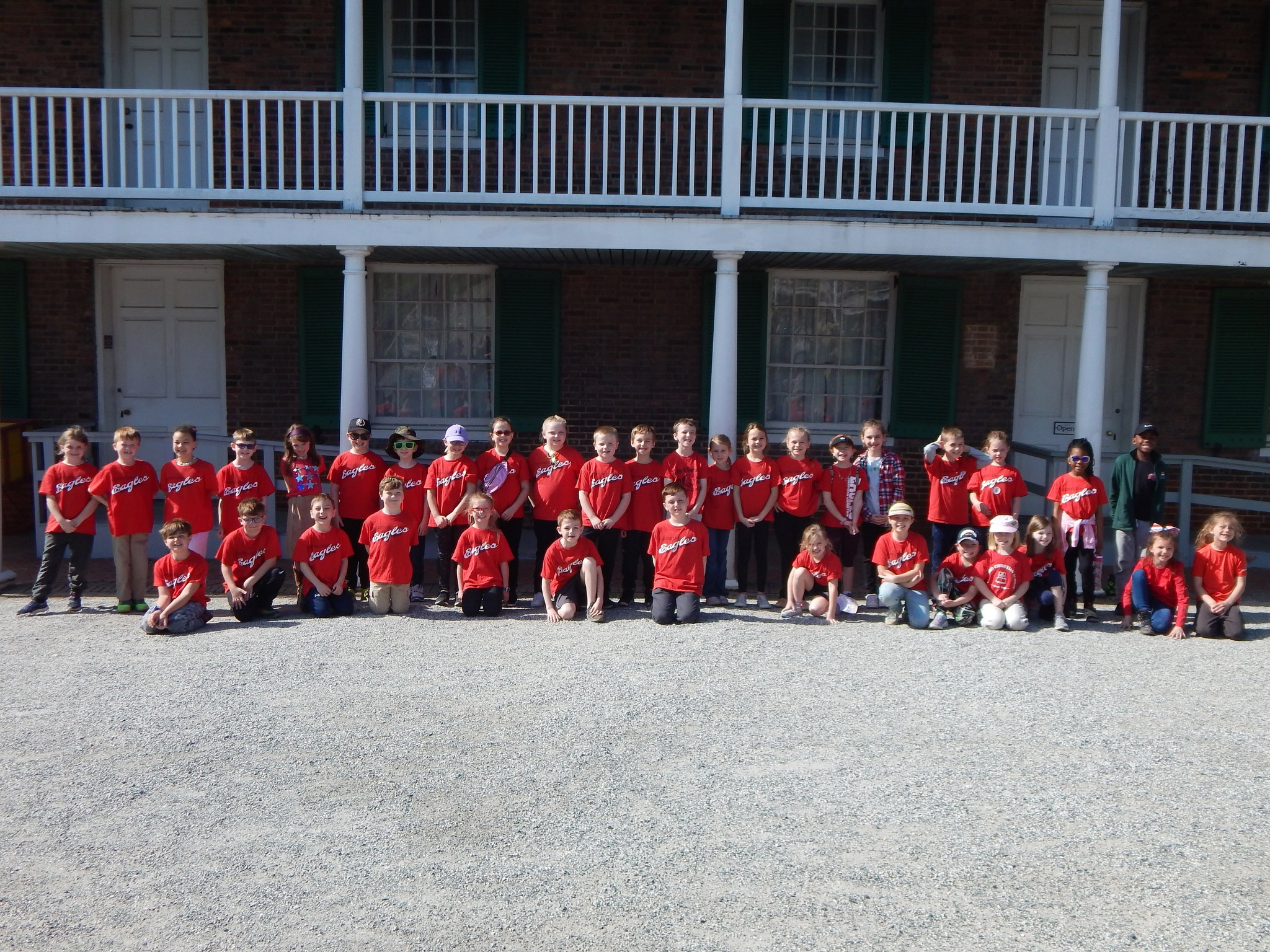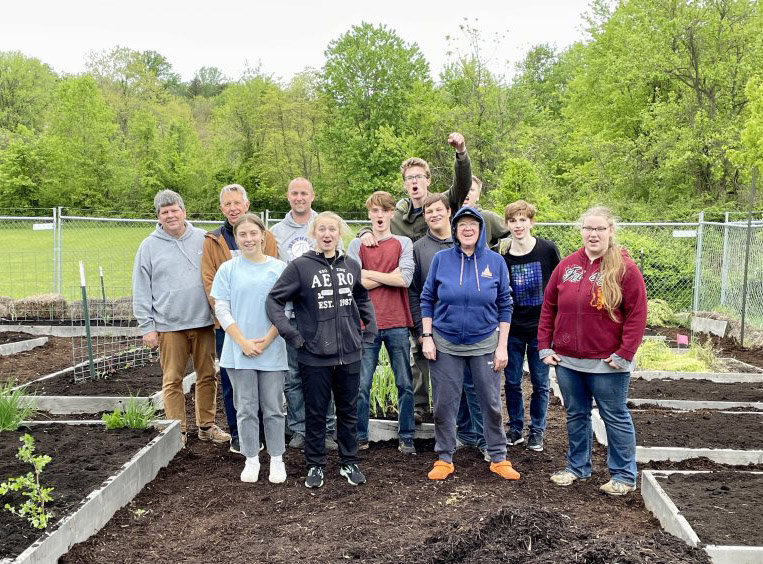 Francis Silver Park
Select members of the HCS Class of 2023 completed a community service project on Tuesday, May 2, 2023.  Classmates shown, along with staff supervision, spent the afternoon prepping the Darlington Community Garden for spring planting.  Beds were weeded, topped off with compost, and walking paths mulched.  Countless wheelbarrow trips and shovels  and rakes in action made a very productive afternoon.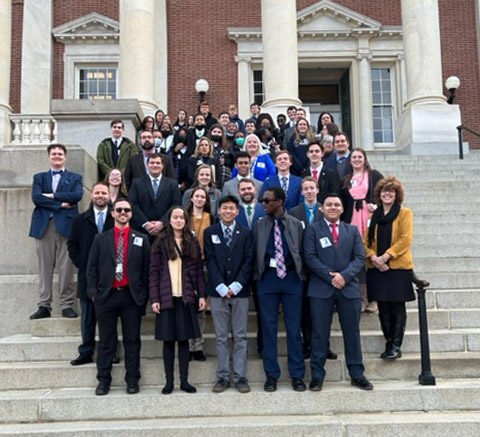 A Great Day in Annapolis
On Friday, February 3rd, student representatives from Harford Christian School traveled to Annapolis, Maryland to advocate for liberty for Christian Schools.  (Jason Arnold, Marcus Burge, Paige Bueche', Ben Coomes, Ella Holbrook, Brayden Stagnoli)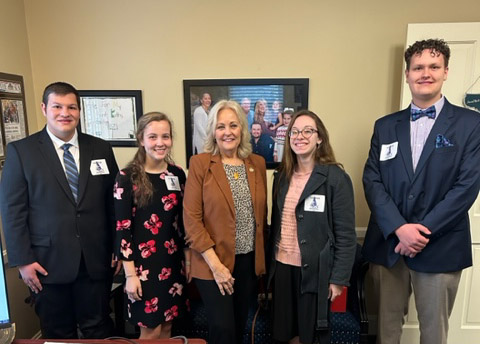 Photo  from left to right – Brayden Stagnoli, Ella Holbrook, Delegate Kathy Szilega, Paige Bueche', and Marcus Burge
The students were joined by 8 other MACS school visiting over 180 offices of senators and delegates. The mission was to ask our lawmakers to protect our religious liberties and allow our schools to minister without government interference.  When the mission was accomplished the 70 students and school leaders enjoyed Mission BBQ for lunch.
We are grateful for the preparation and execution of the message. Feedback affirms many meaningful office visits and interactions. May the Lord watch over and protect our schools from government interference and non-Christian ideology. 
All Harford County Women's Volleyball
We congratulate HCS sophomore Chloe Brooks on the recent announcement of her 1st Team All-Harford County selection for women's volleyball.  Our girls team had a very good season and Chloe was a big part of their success.  Well done Chloe!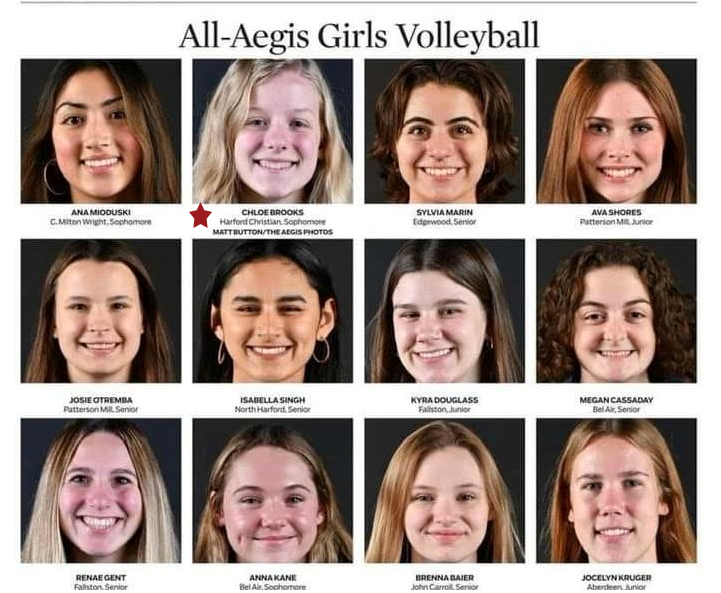 The HCS 3rd through 12th Grade Christmas Concert!
Wonderful memories from our 3rd-12th Grade Christmas Concert! 
A great job by everyone!
The HCS K4 – 2nd Grade Christmas Concert!
Celebrating Christmas with the first of two concerts this season! We loved hearing our K4-2nd grade students perform along with our High School Concert Band this past Friday evening!
  A great job by everyone!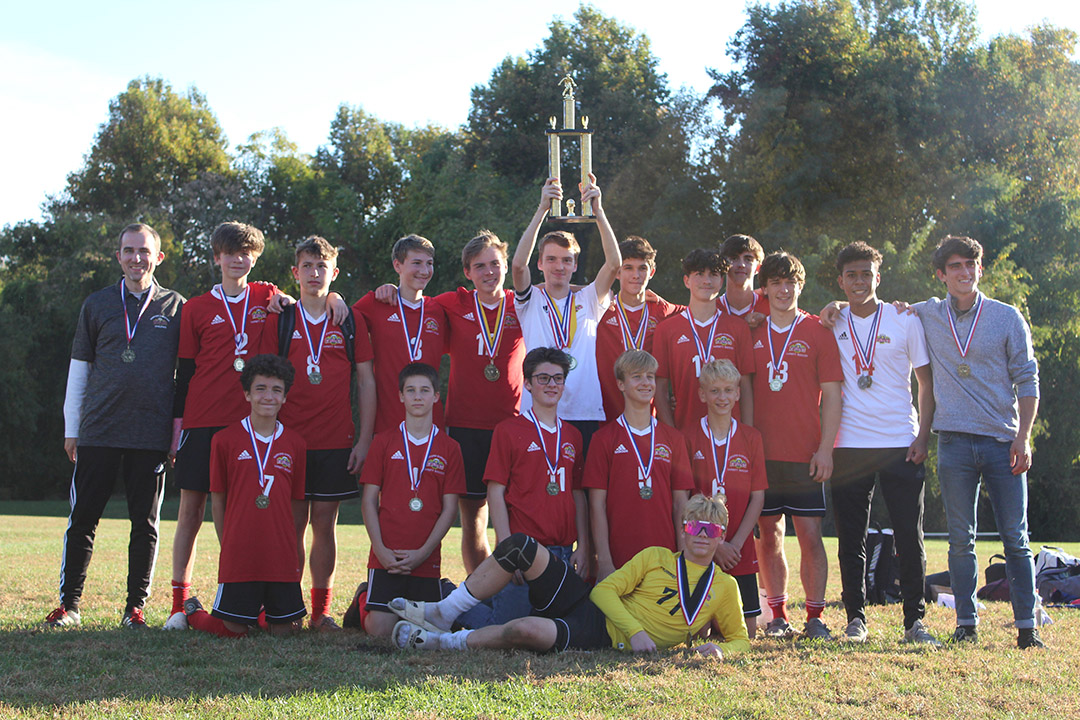 Boys Varsity Soccer Team Wins Championship
The HCS Boys Varsity Soccer team won its first MACSAC (Maryland Association of Christian Schools Athletic Conference) Championship since 2015.  Congratulations to the team and their coaches!
2022 Charlie Riley Scholarship
Let's give a big shout out to Ella Holbrook for winning the Charlie Riley Community Service Scholarship! Each year, the scholarship fund provides financial assistance for post secondary education to graduating, high school students who are residents of Harford County that perform and display exemplary community service. Congratulations Ella!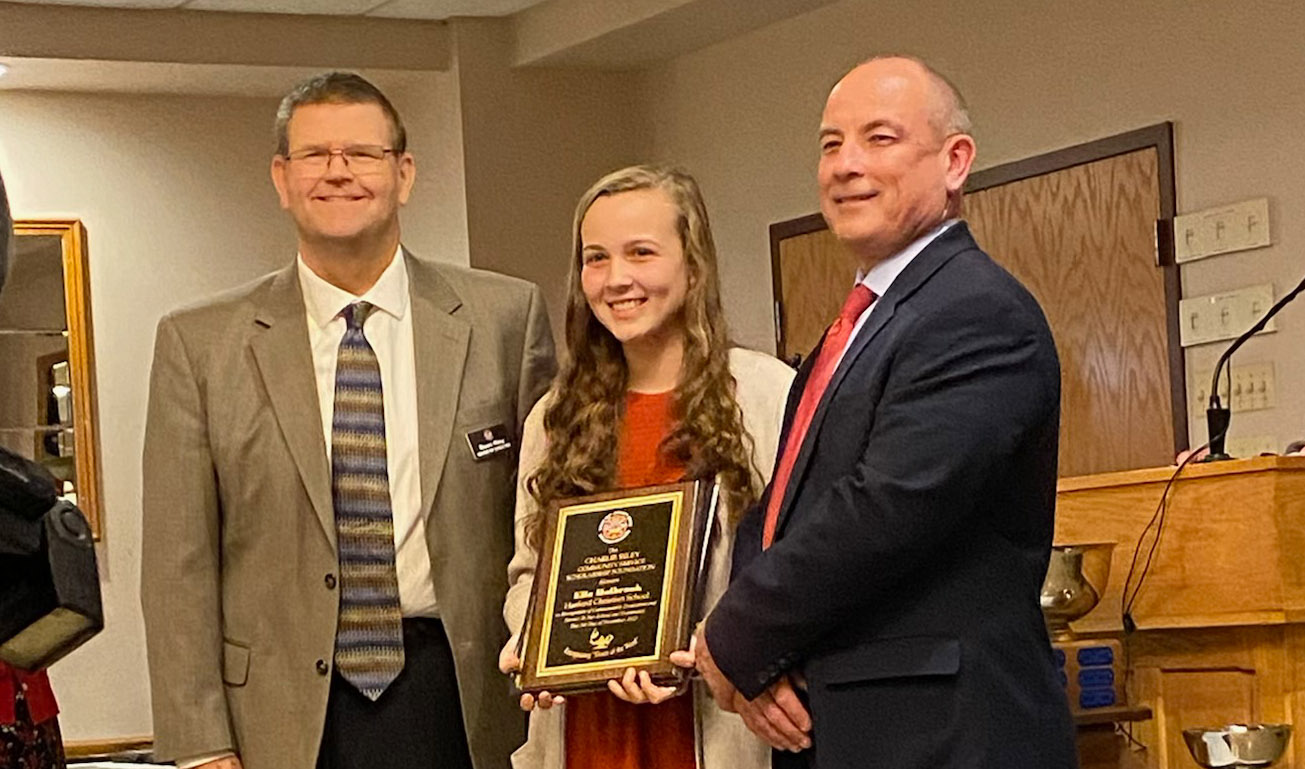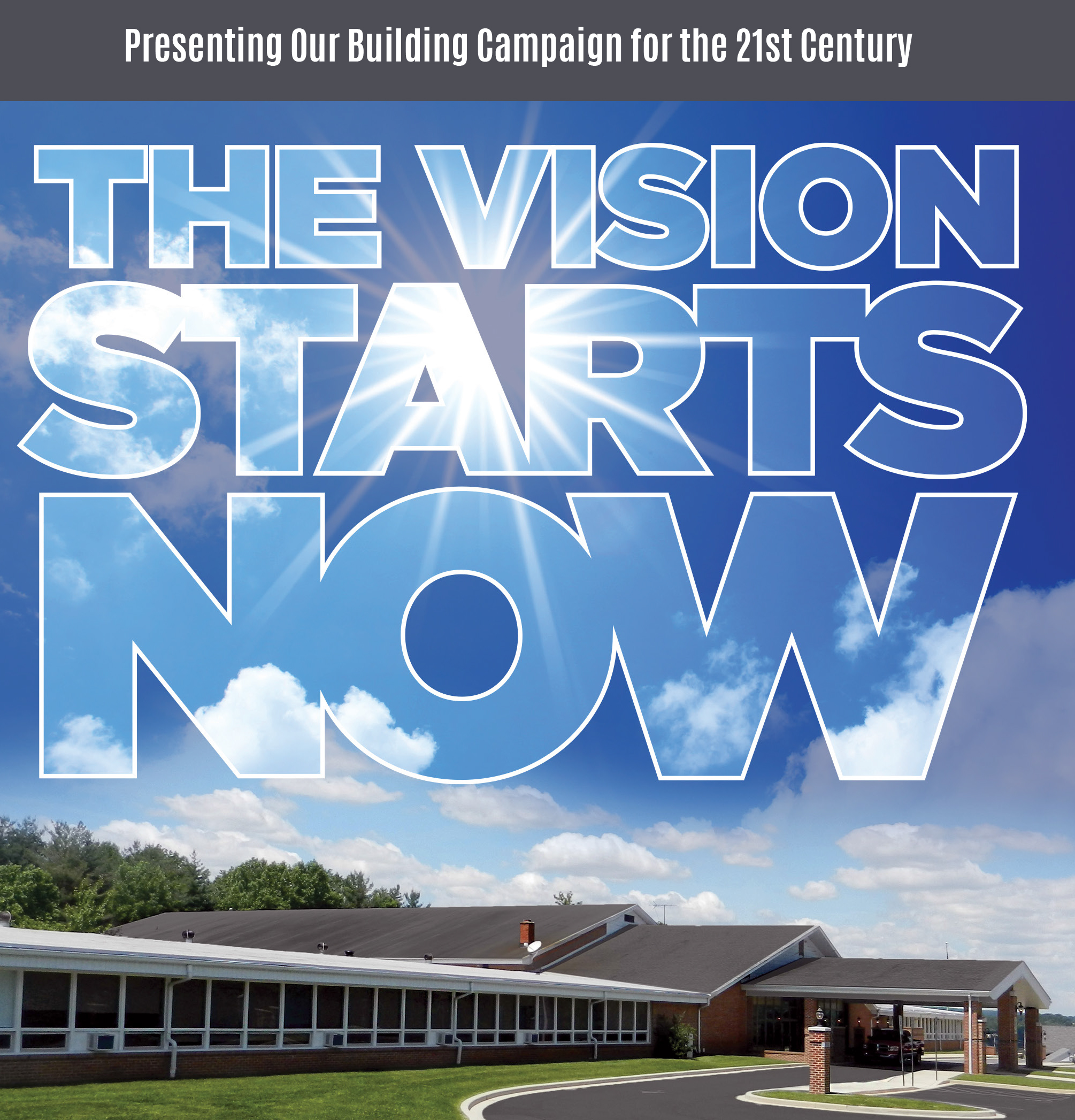 Help us to more students who will go on to serve God, their families and their communities with dignity and integrity in the 21st century. Visit our Vision21 page for more information. Read our Spring Newsletter.
Vision 21 Extravaganza!
We are so thankful to God for a wonderful, successful, and fun-filled evening for our Vision21 Extravaganza! A huge thank you to everyone who organized, sponsored, and attended this special event! We are excited for the future of HCS as God provides for our new building!
Meet our new teachers and staff for the 2022/23 school year!
What is New at Harford Christian 2021/22?
Fifth Grade Field Trip
The Harford Christian School 5th Grade class to a field trip to Gettysburg Battlefield November 1, 2021. From the National Park Service Website: The Battle of Gettysburg was a turning point in the Civil War, the Union victory that ended General Robert E. Lee's second and most ambitious invasion of the North. Often referred to as the "High Water Mark of the Rebellion", Gettysburg was the Civil War's bloodiest battle and was also the inspiration for President Abraham Lincoln's immortal "Gettysburg Address". For more photos, visit our
Facebook page.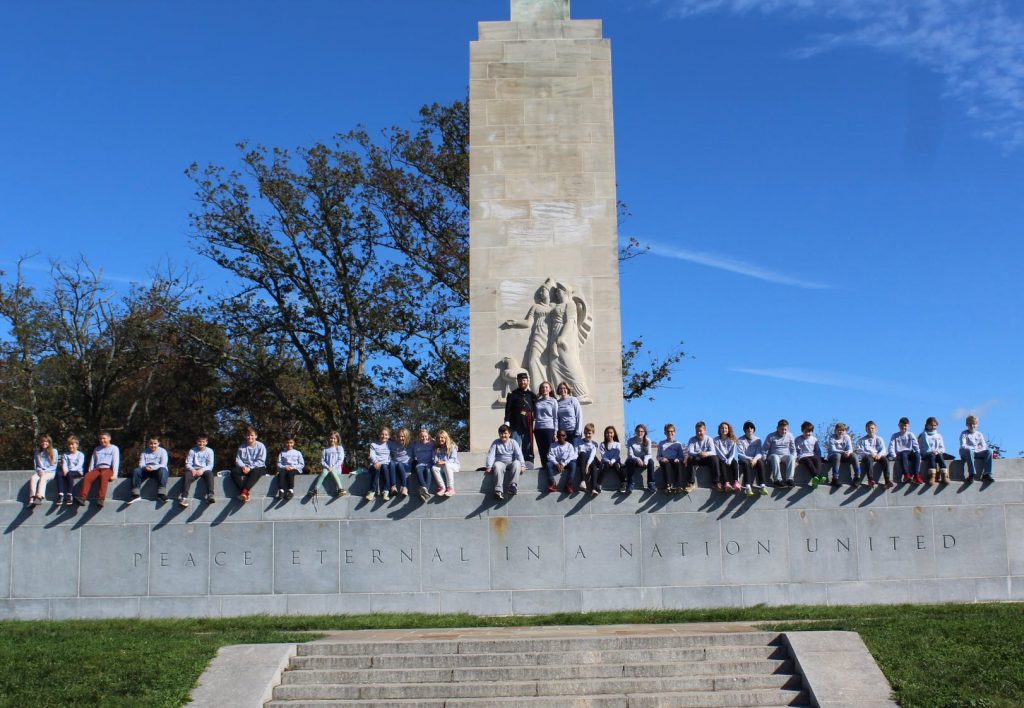 Making Christmas Ornaments
Leading up to the Christmas holiday, Mrs. Burge's First Grade students made wreath ornaments.  Camden Ingram was very happy with his project!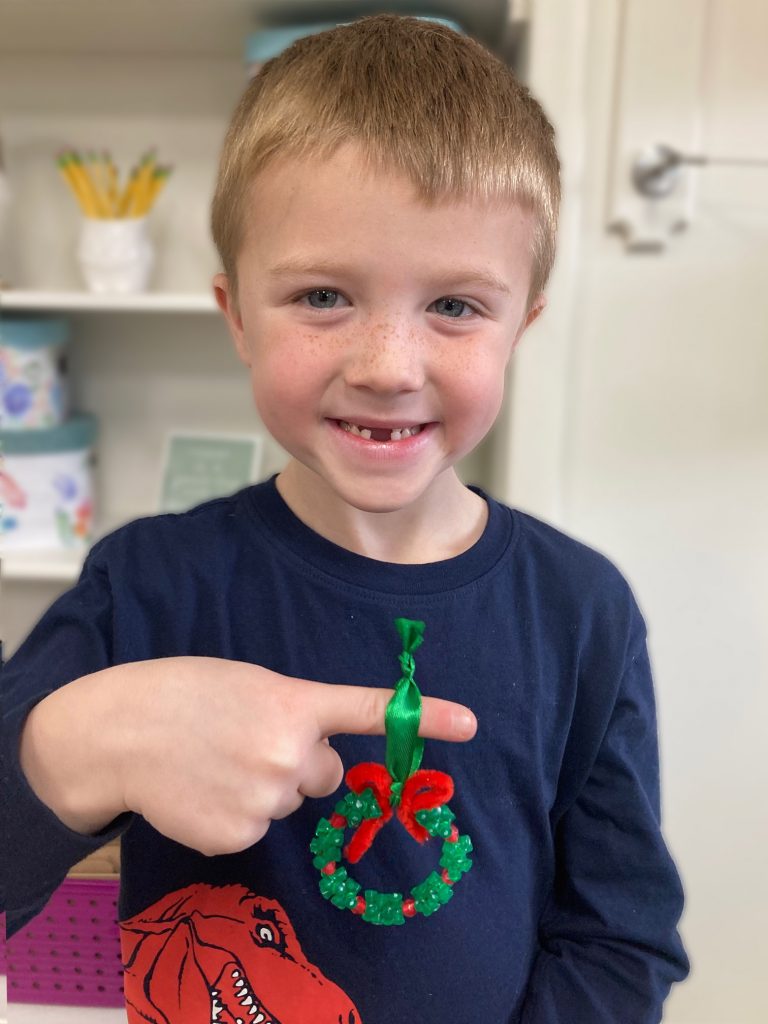 Charlie Riley Community Service Scholarship
HCS congratulates senior Kyle Bonney, the 2021 recipient of the Charlie Riley Community Service Scholarship. Kyle was honored at a special banquet on Wednesday, November 10, 2021 at Level Fire Company. Kyle was joined by his parents Christina and Brian, and sister Annaliese. Congratulations, Kyle!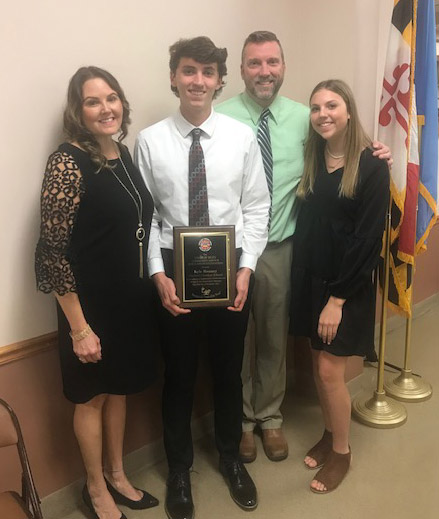 Kindergarten Christmas Party
K4 students enjoyed colorful cupcakes during their Christmas party.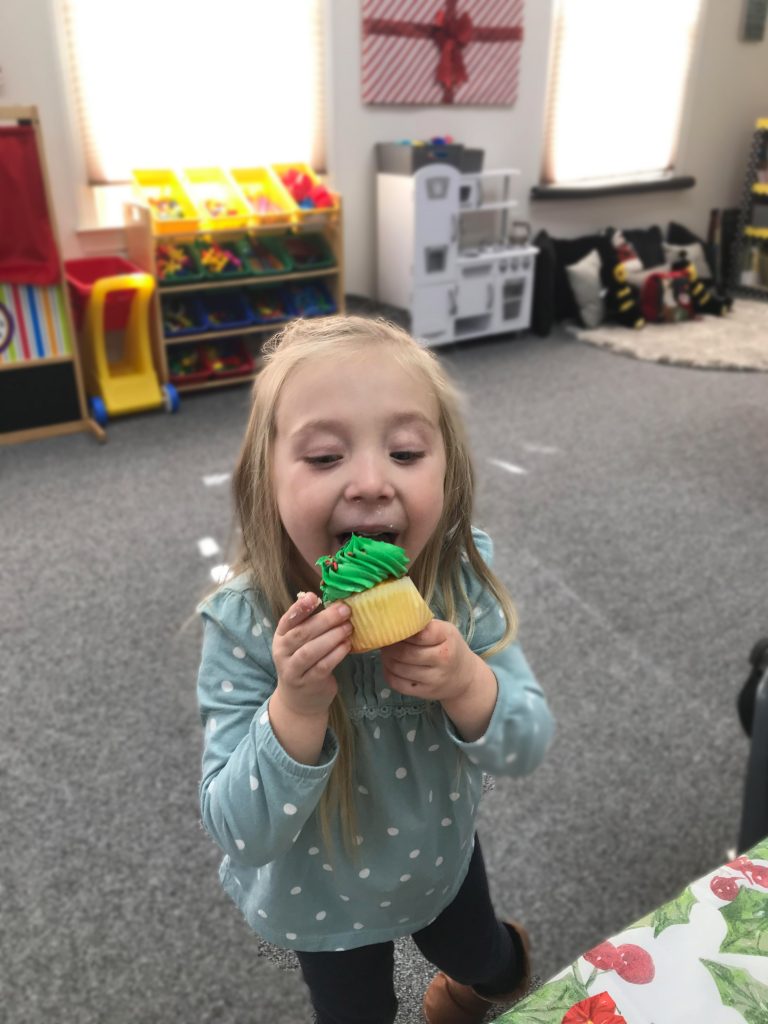 First Grade students get dressed up for the Christmas concert!
Kindergarten – Second Grade Christmas Concert
On December 10th our youngest students, K4-2nd Grade, put on a wonderful Christmas Concert! These students did a great job performing for their families and friends!
Third through Twelfth Grade Christmas Concert
On December 27, Harford Christian Students performed in another wonderful Christmas Concert! We enjoyed great performances from our elementary and high school bands, elementary choirs, honors choir, senior high choir, and some student speakers!
Mrs. Bueche's 5th Grade Class Supports Cecil Pregnancy and Family Center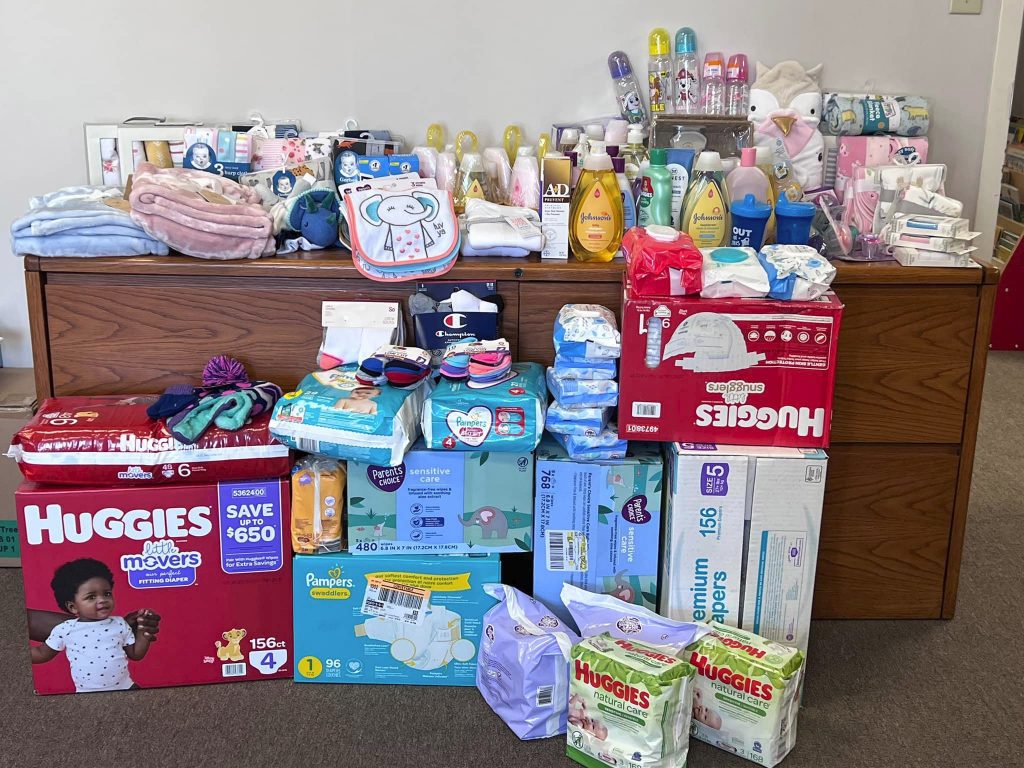 The Cecil Pregnancy and Family Center was so grateful for Harford Christian School's fantastic 5th graders! They did a great job collecting items for the resource center this year. The donation will be a blessing to so many.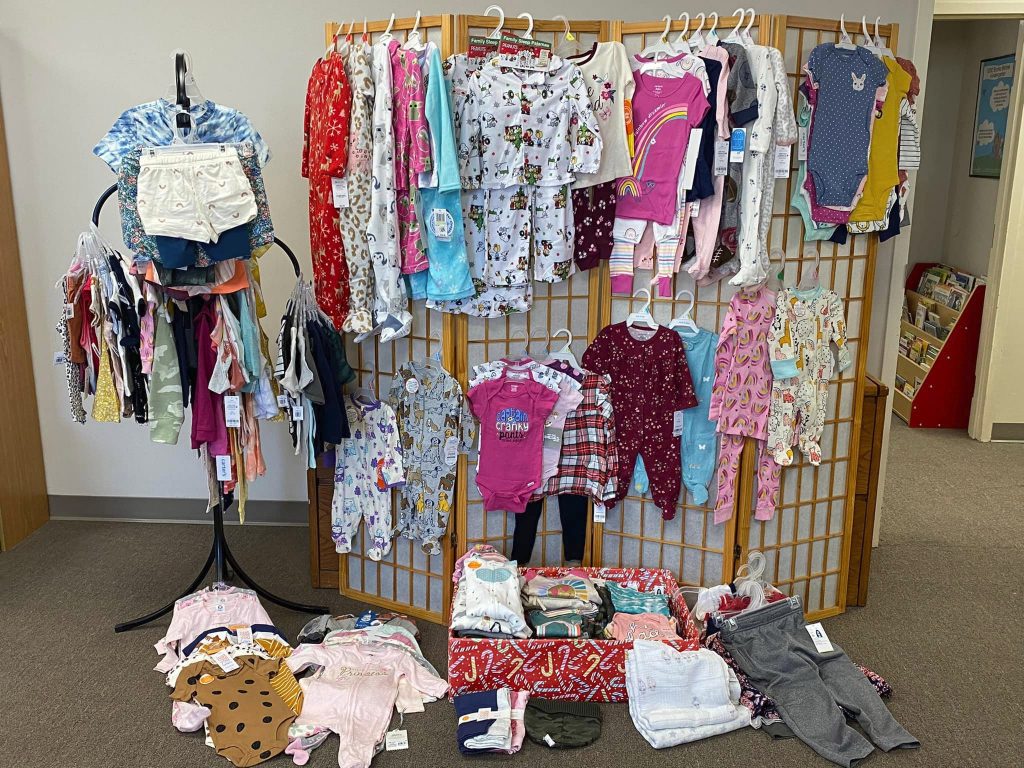 Book Week Theme – Round Up a Good Book
HCS first grade enjoyed learning about the Tlingit Indians
The students made totem poles!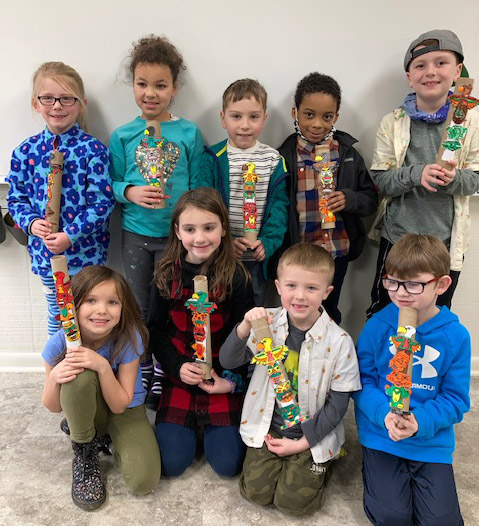 Vfw Voice of Democracy and Patriot's Pen

Established in 1947, our Voice of Democracy audio-essay program provides high school students with the unique opportunity to express themselves in regards to a democratic and patriotic-themed recorded essay.
The students made totem poles!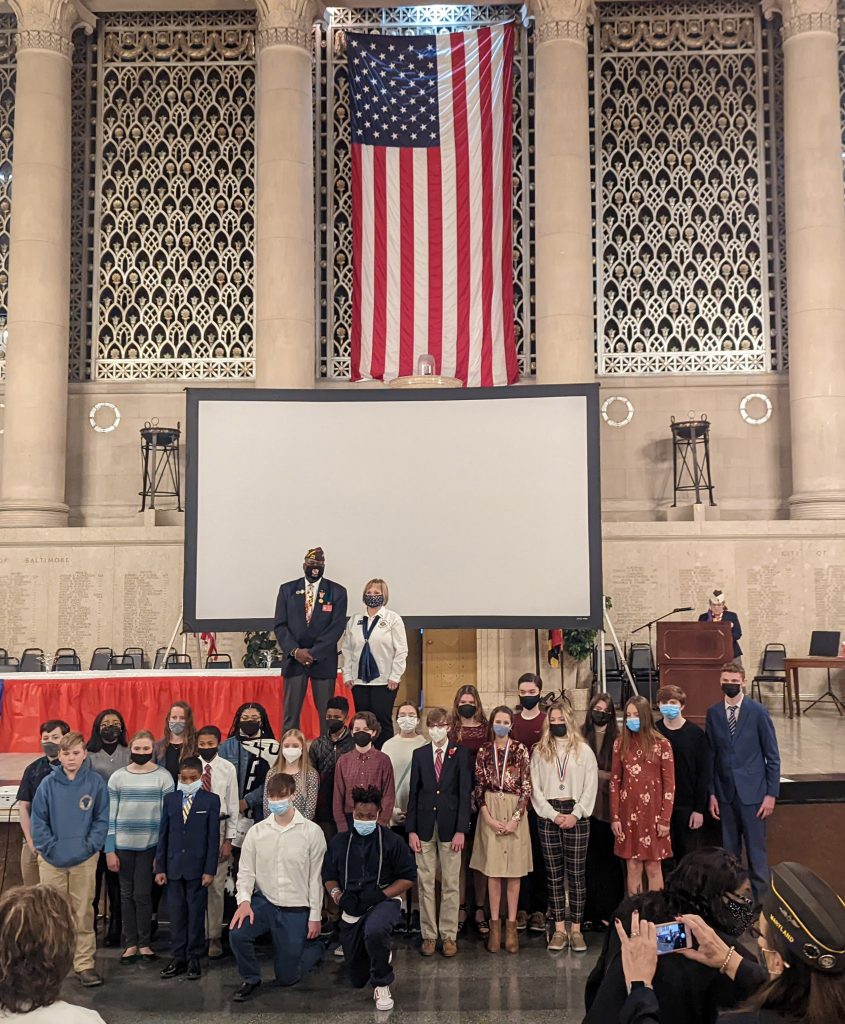 First Grade students enjoyed Fabulous Friday Summer Day!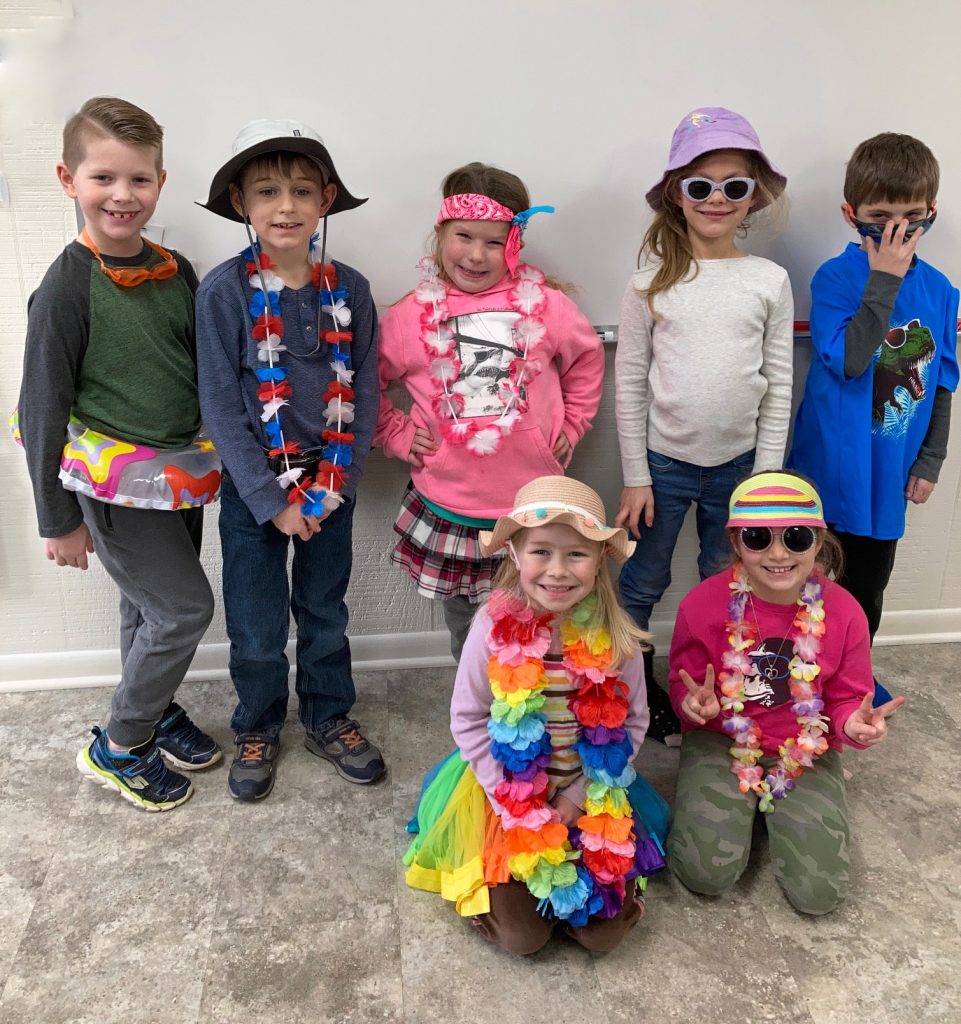 HCS was well represented at the state-level VFW "Voice of Democracy"  & "Patriot's Pen" events in Baltimore on January 23rd. Josh Patey placed 4th for Voice of Democracy (9th-12th) and Annie May placed1st for the Patriot's Pen (6th-8th)! Annie will be moving on to Nationals in D. C. in March. Congratulations Josh and Annie!