Philosophy and Goals
Harford Christian School has been providing quality Christian education since 1966. God's watch-care and provision are evidences of great blessing. Outside of a biblical worldview it is impossible to know how to live. God makes it clear that our purpose in life is to bring glory unto Him since we were created for His pleasure. While providing sound academic instruction, the ministry team at HCS seeks to teach and model the bigger picture of what living is all about.
I. VISION STATEMENT
VISION STATEMENT
Harford Christian School shall be a team of teaching professionals thrilled with Jesus Christ, passionate in their study, worship and adoration of Him and zealous in their aspiration to be conformed to His perfection. They shall desire earnestly that their students become like Him in character and godliness through regeneration, sanctification and godly instruction, and shall give themselves unreservedly to this purpose.
Harford Christian School shall be families drawn together by the character of the teachers, who desire earnestly that their children become like their teachers in character and godliness, and who with the teachers shall give themselves unreservedly to this purpose.
Harford Christian School shall be students whose energies are channeled into productive learning, whose innate abilities are nurtured to maximum potential, and whose lives are molded by teachers and family into models of godliness and character. This shall be achieved in a manner pleasant and gratifying to the student.
Harford Christian School shall be a congregation and network of supporting friends who dedicate themselves to the fulfillment of this vision through prayer, emulation of its objectives, and generosity.
These being achieved, Harford Christian School shall enjoy an unusually pleasant atmosphere, a happy, fulfilled and advancing student body, strong academic and intellectual progress, rich civility and cultural development, exceptionally maintained facilities, and a gratified staff, all to the glory of God.
II. VISION FOR AN HCS GRADUATE
VISION FOR HCS GRADUATES
Harford Christian School acknowledges that activity and progress in the spiritual domain uniquely belongs to God.  We sow seeds and we water them, but only God is able to bring the increase.  With that admission, we labor for and pray that every HCS graduate will . . .
 – Know Jesus Christ as Lord and Savior.
 – Live with God-consciousness, hearing Him speak from time in His Word, and communing with Him in seasons of prayer.
 – Demonstrate excellent community citizenship prompted by biblical worldview.
 – Do everything to the glory of God and "heartily as unto the Lord."
 – Possess the needed skills and work ethic to be productive and successful.
III. DOCTRINAL STATEMENT
DOCTRINAL STATEMENT
This statement of faith is to be signed annually in good conscience by every member of the Board of Directors, Faculty, and Staff (thus insuring the doctrinal integrity of the school).
A.  We believe in the Scripture of the Old and New Testaments as the verbally inspired Word of God, as inerrant in the original writings, and as the supreme and final authority in faith and life.
B.  We believe in one God, externally existing in three persons – Father, Son, and Holy Spirit.
C.  We believe that Jesus Christ was begotten by the Holy Spirit, born of the Virgin Mary, and is true God and true man.
D.  We believe that man was created in the image of God; that he sinned and thereby incurred not only physical death but also spiritual death which is separation from God; and that all human beings are born with a sinful nature; and that those who reach moral responsibility become sinners in thought, word, and deed.
E.  We believe that the Lord Jesus Christ died for our sins according to the Scriptures as a representative and substitutionary sacrifice and that all who believe in Him are justified on the ground of His shed blood by which we are brought into real spiritual unity in Christ.
F.  We believe in the resurrection of the crucified body of our Lord, in His ascension into Heaven, and in His present life, there for us as High Priest and Advocate.
G.  We believe in "that blessed hope" – the personal, premillennial* and imminent return of our Lord and Savior Jesus Christ.
H.  We believe that all who receive, by faith, the Lord Jesus Christ are born again of the Holy Spirit and thereby become children of God.
I.  We believe in the bodily resurrection of the just and the unjust, the everlasting blessedness of the saved, and the everlasting punishment of the lost.
J.  We believe in the necessity of maintaining, according to the Word of God, the purity of the Church in doctrine and life.
*Latitude is permitted among staff with regards to eschatology.
Statement on Marriage, Gender, and Sexuality
STATEMENT ON MARRIAGE, GENDER AND SEXUALITY
We believe that God wonderfully and immutably creates each person as male or female. These two distinct, complementary genders together reflect the image and nature of God. (Gen 1:26-27.) Rejection of one's biological sex is a rejection of the image of God within that person.
We believe that the term "marriage" has only one meaning: the uniting of one man and one woman in a single, exclusive union, as delineated in Scripture. (Gen 2:18-25.) We believe that God intends sexual intimacy to occur only between a man and a woman who are married to each other. (1 Corinthians 6:18; 7:2-5; Hebrews 13:4.) We believe that God has commanded that no intimate sexual activity be engaged in outside of a marriage between a man and a woman.
We believe that any form of sexual immorality (including adultery, fornication, homosexual behavior, bisexual conduct, bestiality, incest, and use of pornography) is sinful and offensive to God. (Matt 15:18-20; 1 Corinthians 6:9-10.)
We believe that in order to preserve the function and integrity of Reformation Bible Church as the local Body of Christ, and to provide a biblical role model to the Reformation Bible Church and Harford Christian School members, constituents, and the community, it is imperative that all persons employed by Reformation Bible Church and Harford Christian School in any capacity, or who serve as volunteers, or who enroll as students or who enroll their children in HCS agree to and abide by this Statement on Marriage, Gender, and Sexuality. (Matt 5:16; Phil 2:14-16; 1 Thessalonians 5:22.)
We believe that God offers redemption and restoration to all who confess and forsake their sin, seeking His mercy and forgiveness through Jesus Christ. (Acts 3:19-21; Rom 10:9-10; 1 Corinthians 6:9-11.)
IV.  MISSION STATEMENT
MISSION STATEMENT
Harford Christian School exists to serve families by offering academic excellence within a Christian worldview, all to the glory of God.
V. PHILOSOPIHY AND OBJECTIVES
PHILOSOPHY AND OBJECTIVES
"And Jesus increased in wisdom and stature, and in favor with God and man."
Luke 2:52
Christian education strives to cultivate students in likeness to Jesus Christ.
Jesus increased in wisdom. Wisdom is more than knowledge; it is knowing the proper use of knowledge. "The fear of the LORD is the beginning of wisdom: a good understanding have all they that do his commandments" (Psalm 111:10).
Jesus increased in stature. Physical development must be advanced through health-promoting activities, and guarded from unhealthy practices. But godliness supersedes all physical benefits. "For bodily exercise profiteth little: but godliness is profitable unto all things, having promise of the life that now is, and of that which is to come" (I Timothy 4:8).
Jesus increased in favor with God. Created in God's image, that image is deformed and disfigured by sin. God has purposed to restore that image, "For whom he did foreknow, he also did predestinate to be conformed to the image of his Son, that he might be the firstborn among many brethren" (Romans 8:29).
Jesus increased in favor with man. "Thou shalt love the Lord thy God with all thy heart, and with all thy soul, and with all thy strength, and with all thy mind; and thy neighbour as thyself" (Luke 10:27).
The ways and means of Harford Christian School are employed to advance these principles unto the development of the beauties of Christ Jesus in each student.
Harford Christian School was specifically organized to offer students "academic excellence" with a "Christian emphasis."  Our specific objectives are:
A. To so effectively teach, that each student will take as a personal commitment and belief that Jesus Christ is the Son of God and that His death and resurrection provide forgiveness of sin and new life through faith in Him.
B. To create in each student a firm conviction that the Bible is the Word of God to men and that it is a practical guide to life and living.
C. To develop within each student a keen understanding of the fundamentals of God's creation, including all of the academic studies; to cause within a student's thinking and understanding that Jesus Christ is central, in all of these areas; and to develop students thoroughly in the arts and sciences in order to glorify God, spiritually, socially, mentally and physically, not in the student's natural energy, but through new life in Christ.
D. To so effectively teach the principles of faith that each student will purpose to yield completely to God in submission and obedience to His will as revealed in the Bible.
E. To cause each student to progress in Christian living through fellowship with the Lord Jesus Christ in studying the Holy Scriptures, prayer and Christian service activities.
F.  To cause each student to work effectively with perseverance both independently and cooperatively.
G. To develop in each student an understanding of how to think and how to apply himself in order to achieve self-discipline and responsibility.
H. To cause each student to appreciate and desire wholesome recreation.
I.  To develop in each student, the proper attitudes, ideals, habits, knowledge, and skills which are the necessary preparation for life.
J.  To give each student experiences that will help him face life with courage and understanding. To help each student experience a living faith in God that will make him a credit to Christ, his community, his nation, and himself.
An Independent Christian School
Harford Christian School is in no way affiliated with, funded by, or approved by the state or federal government school systems. Our ministry has protected its independence from outside entanglements. Harford Christian graduates are excelling in secular and Christian colleges, universities and diverse professions.
For more information, read our Vision Statement and our Doctrinal Statement .
History: (written by Dr. John McKnight)
America was torn. The Vietnam War, assassinations of a president, a senator, and civil rights leaders; racial injustice, an exploding drug culture, rhythm, riots and revolution—all played their parts. Early that decade, Bible and prayer were forbidden in public schools. Academic and moral freefall followed. It was the 1960s.  Founders of Harford Christian School, alarmed by this godless philosophy overtaking the nation, did what they could to preserve a remnant. Harford Christian was their valiant effort. Armed with conviction, the fear of God and determination, and fortified by the promises of Scripture, they established a school where prayer, God's Word and godliness were valued. Almost a half century later and true to purpose, Harford Christian School enjoys a godly heritage that will usher it into the 21st century. America is still torn, but God's Word remains forever the same and will endure the test of time. Education can equip a person for crime or for charity, for Christ or for self and Satan. Harford Christian seeks to cultivate the individual to fulfill Christ's purpose, knowing that "all things were created by him, and for him" (Col. 1:16b). Much has changed since its first day in 1966, but this purpose must never change. God helping, it will be our cause in the second half-century of Harford Christian School.
Facilities – Kindergarten, Elementary, High School, Athletic Fields
Kindergarten
Constructed in 1980 the June McKnight Kindergarten Center is a two-story building with four spacious classrooms, each equipped with restrooms. The lower level serves as the bell choir rehearsal area and large meeting area for various assemblies. A dynamic playground system exists behind the building and serves the kindergarten and elementary populations.

High School Building
Completed in 1973, this facility houses approximately 250 students in grades seven through twelve. A spacious and full library and a regulation size gymnasium exist in addition to fourteen classrooms. A computer lab with thirty PC's serves as the technology instruction center for the high school. The administrative offices find their home in this bustling facility of learning and activities. The gymnasium converts into the fine arts performance area for concerts, dramatic productions and commencement activities.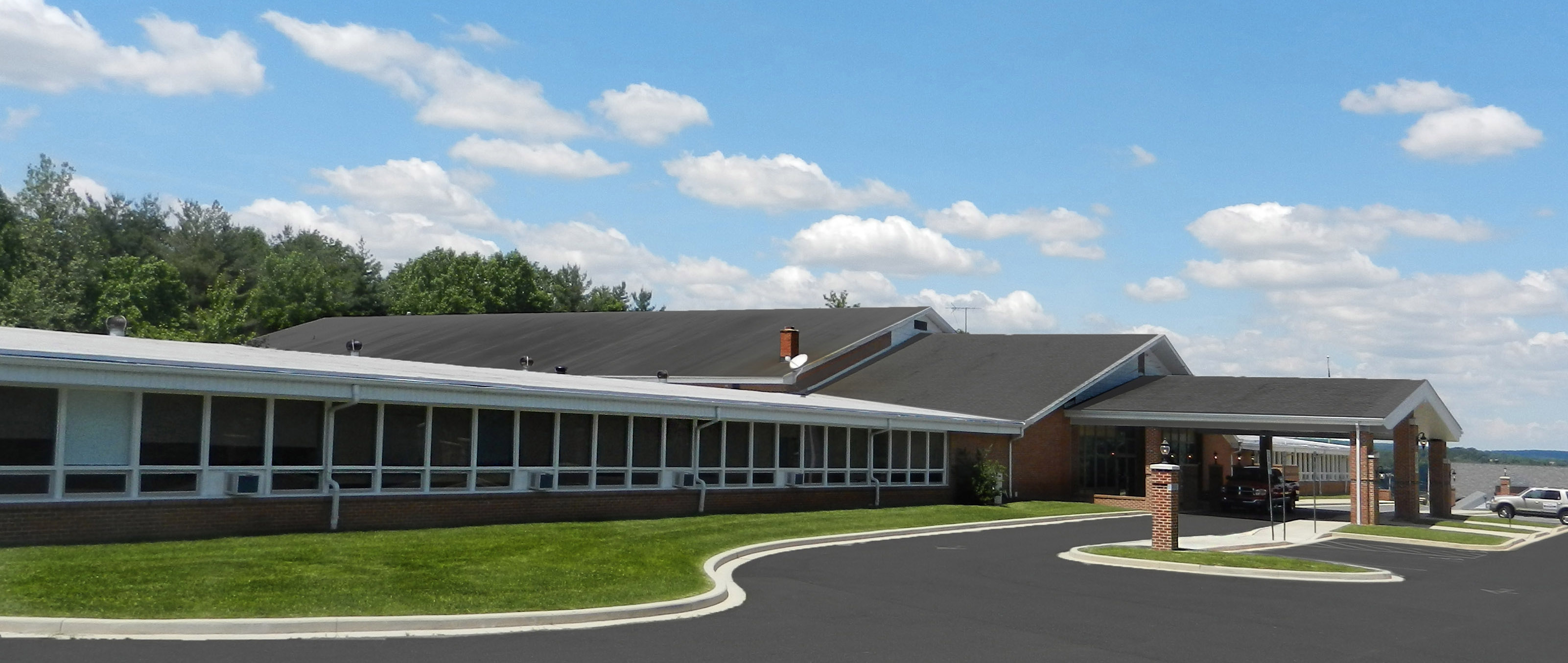 Elementary Building
Grades one through six meet for instruction in the original church building. Fourteen classrooms on three levels house the elementary students for instruction. A computer lab, music room, art room, and special education classrooms are an integral part of the facility. The nurse's office, teacher work rooms, and sanctuary are located in the elementary building, also.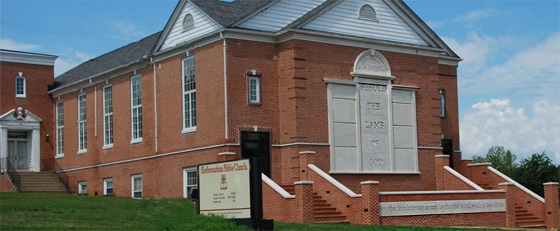 Athletic Fields
Harford Christian Schools has beautifully maintained athletic fields for soccer, field hockey, and summer camps.